Have A Welding Automation Problem That Needs A Solution?
Pandjiris Provides Weld Positioning and
Welding Automation Solutions!
For over 75 years, Pandjiris has provided efficient, safe, consistent, and reliable automated welding and positioning solutions, including: welding positioners, welding manipulators, tank turning rolls, weld controllers, self-centering welding grippers, seam welders, slides & swivels, head & tailstocks, turntables, and custom systems. Pandjiris' primary focus is in meeting and exceeding our customers' expectations. With a wide range of standard equipment combined with engineering and applications expertise Pandjiris has the flexibility to design and manufacture automated systems for almost any application across a wide range of industries: pressure vessels, pipe fabrication, aerospace, aviation, shipbuilding, defense, HVAC, transportation, truck, and trailer body building, among others. Pandjiris application engineers take the time to get to know our customer's unique situation and work with them to develop a system that meets their needs.
As a result, Pandjiris is recognized in North America and many countries around the world as #1 in providing Fixed/Mechanized MIG (GMAW) and subarc (SAW) Automated Welding Solutions and for its expertise in developing solutions for TIG (GTAW) and plasma (PAW) applications. Our solutions help our customers control costs, and improve quality, reliability, and throughput.
Can you buy cheaper? Yes, you may be able to purchase individual components for less, but you will find it very difficult to buy more economical Fixed Automated Welding Solutions generating a quicker payback. No one packs more value for the dollar into their Automation Systems. In addition to steel, electrical and mechanical components, Pandjiris solutions include years of design experience across a wide variety of applications. The expertise of our welding technicians, the skill of our fully trained fabricators, welders, and electricians, the watchful eye of our quality assurance department, support from our customer service and parts departments, and the dedication and commitment of all our team members bring our customers the best solutions possible.
Pandjiris celebrates over 75 years of successful operations, and looks toward greater opportunities for service to the welding, joining, and positioning industries as the 21st century unfolds.
Pandjiris® Inc.'s Mission
This mission statement is the beginning of personal and organizational leadership. It is our vision. It provides overall direction and clarifies purpose and meaning. By referring to it, and internalizing its meaning, we are more likely to choose behavior that serves our values, and reject behavior that opposes them. It is congruent with our Total Quality Management philosophy.
Pandjiris is a team of highly motivated individuals dedicated to the sales, design, manufacture, service, and installation of automatic arc welding systems and positioning equipment characterized by superb quality and economic viability. Our strategy is to thoroughly understand our customers' needs and respond to them with flexibility and commitment.
We are committed to the recruitment and development of the best individuals in our industry. We strive to provide our people personal and economic security, physical safety, and a high quality of work life. We provide them with opportunities to grow and learn, and to take pride in the successes of the organization. We maintain an open-door policy at all levels, encouraging the flow of communication and exchange of ideas. We foster an atmosphere of clear expectations and proactive involvement. We recognize the effort and importance of each team member and his or her active role in the success of the entire company. We expect Pandjiris people will be known for their character, commitment, competence, integrity, and teamwork.
We are committed to providing our customers with products and services of superior quality. We seek to exchange guidance and training. We strive to exceed our customers' expectations in terms of quality, innovation, service, delivery, and price. We serve our customers in a manner that is fair, honest, courteous, dependable, and professional. We are responsive to our customers and dedicated to their satisfaction. We seek to earn and deserve our customers' loyalty.
We are committed to identifying and developing long-term relationships with the best providers of materials and services. We promote cooperation, involvement, and mutual benefit through clearly defined expectations and understanding. We expect our suppliers as partners and team members to be dependable and fair, and to provide superior products and services on-time.
We are committed to leading the "Positioning and Automated Welding Solutions" field through integrity, innovation, flexibility, and dedication to customer satisfaction. We will maintain an active leadership role in the welding industry by promoting research to improve technology applicable to our products and by promoting safety throughout the industry. We strive for shared growth and mutually profitable relationships with leading welding equipment manufacturers.
We are committed to the enhancement of the communities in which we are a part, through the economic vitality and aesthetic value of our property, and by our leadership and active participation in community affairs.
Through following this mission statement, Pandjiris has become:
#1 in Mechanized Welding Automation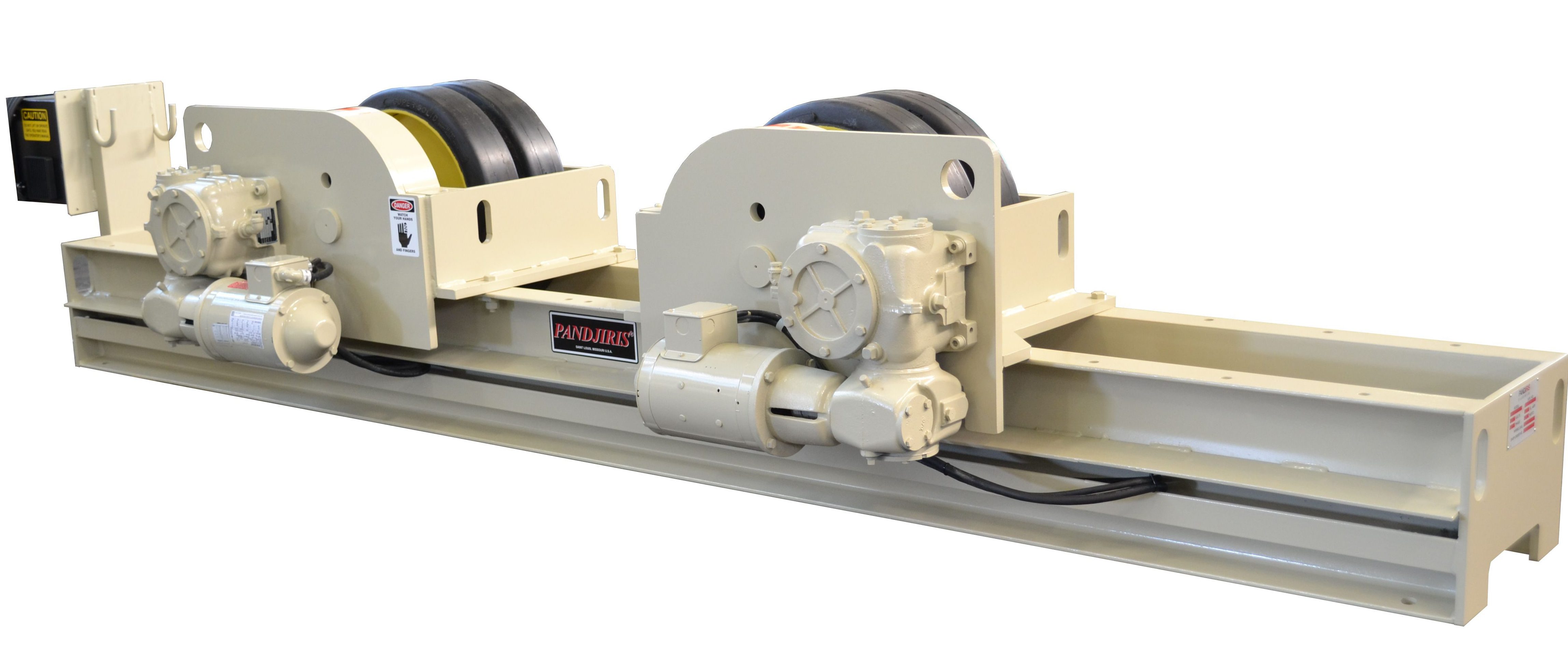 Customer satisfaction can be achieved by addressing three areas simultaneously:
The way we work together.

The way our work is done.

The environment in which we work.
Pandjiris® Inc. Capabilities
Pandjiris®, Inc., has been involved in the design and manufacturing of weld tooling and positioning equipment since 1946. Our products are utilized in a wide variety of metal fabricating industries including truck and trailer manufacturing, earth-moving equipment, metal furniture and container manufacturing, power generation equipment, defense, shipbuilding, railroad car production, pressure vessel production, and aerospace. Pandjiris' facility is located at 5151 Northrup Avenue in St. Louis, Missouri. The facility has over 46,000 square feet of office, warehouse and production floor space.
Pandjiris' production plant incorporates two large bays oriented to provide a smooth logical production flow for product manufacture. Our fabrication, machining, assembly, painting and electrical departments are capable of producing the automated systems we manufacture from raw material to final product. Each production bay is equipped with large capacity overhead cranes that run the full length of the bays and are capable of lifting even the largest of our products. Our engineering department is staffed with engineers experienced in the design of sophisticated tooling dedicated to the automation of production style welding applications.
Pandjiris' utilization of proven design technology mixed with innovative tooling concepts and welding expertise provides customers with automated welding systems that increase product quality and productive throughput. Pandjiris can provide customers with complete turnkey systems that increase production capabilities while reducing labor costs.
Pandjiris has designed and patented a wide range of mechanical designs throughout our history. Early patents included specialized welding grippers designed specifically for the harsh environment of the welding industry. Special clamping systems were patented based on the unique characteristics and results they offered. An example is our Four-Bar Linkage clamping system that provides a directional clamping force ensuring pressure in a manner that results in consistent joint fit-up on longitudinal seams. This design facilitates repeatable quality welds. The Four-Bar Linkage Clamping System has been utilized on a number of weld seamers supplied to customers. The most notable application is the 45'cantilevered seamer supplied for the manufacture of Delta II Launch Vehicle fuel tanks. A Four-Bar Linkage clamping system provides greater fit-up and clamping capabilities than the standard paddle finger design offered on most industrial seamers. Pandjiris continues to offer technological advances in the design of equipment for the welding industry.
Pandjiris is moving into the 21st century with a vibrant outlook on the advanced systems capability we offer our customers. Pandjiris continues to make significant strides in controls, robotics and total system integration capabilities so our customers can be assured they are partnering with a motivated solution-driven team. Pandjiris takes pride in offering the capability of complete turnkey solutions for our customers.
Pandjiris makes a full commitment to provide high quality automated systems for our customers and directs its quality assurance efforts to ensure that products meet or exceed the requirements of our manufacturing customers. Pandjiris' facilities and personnel have proven to be more than capable of providing quality welding systems delivered within the time frames customers request. Pandjiris takes specific steps to ensure the commitments made to our customers are satisfied. We employ program management techniques and philosophies to ensure all Pandjiris' team members approach commitments with the same goal in mind:
Satisfy the need of the customer.